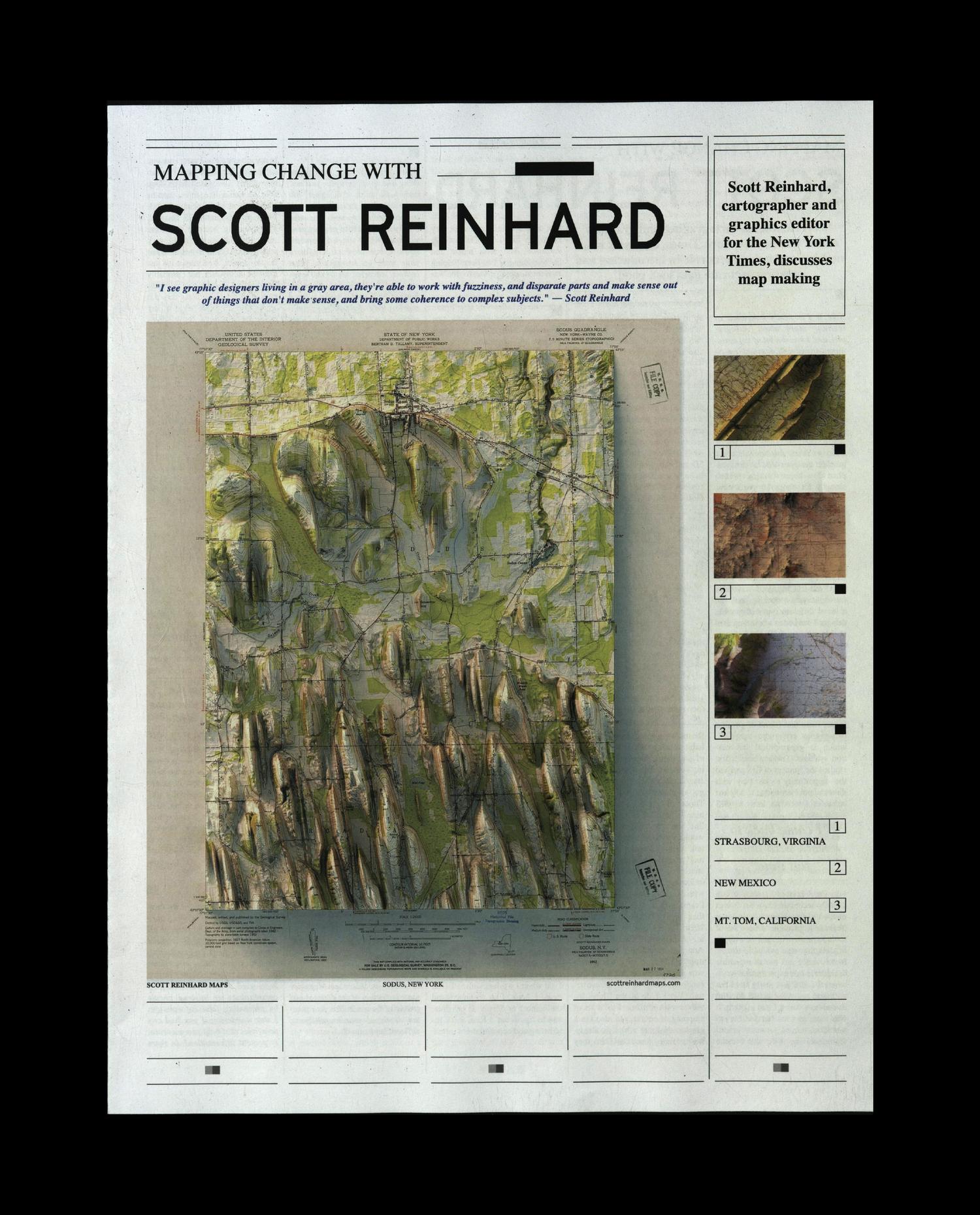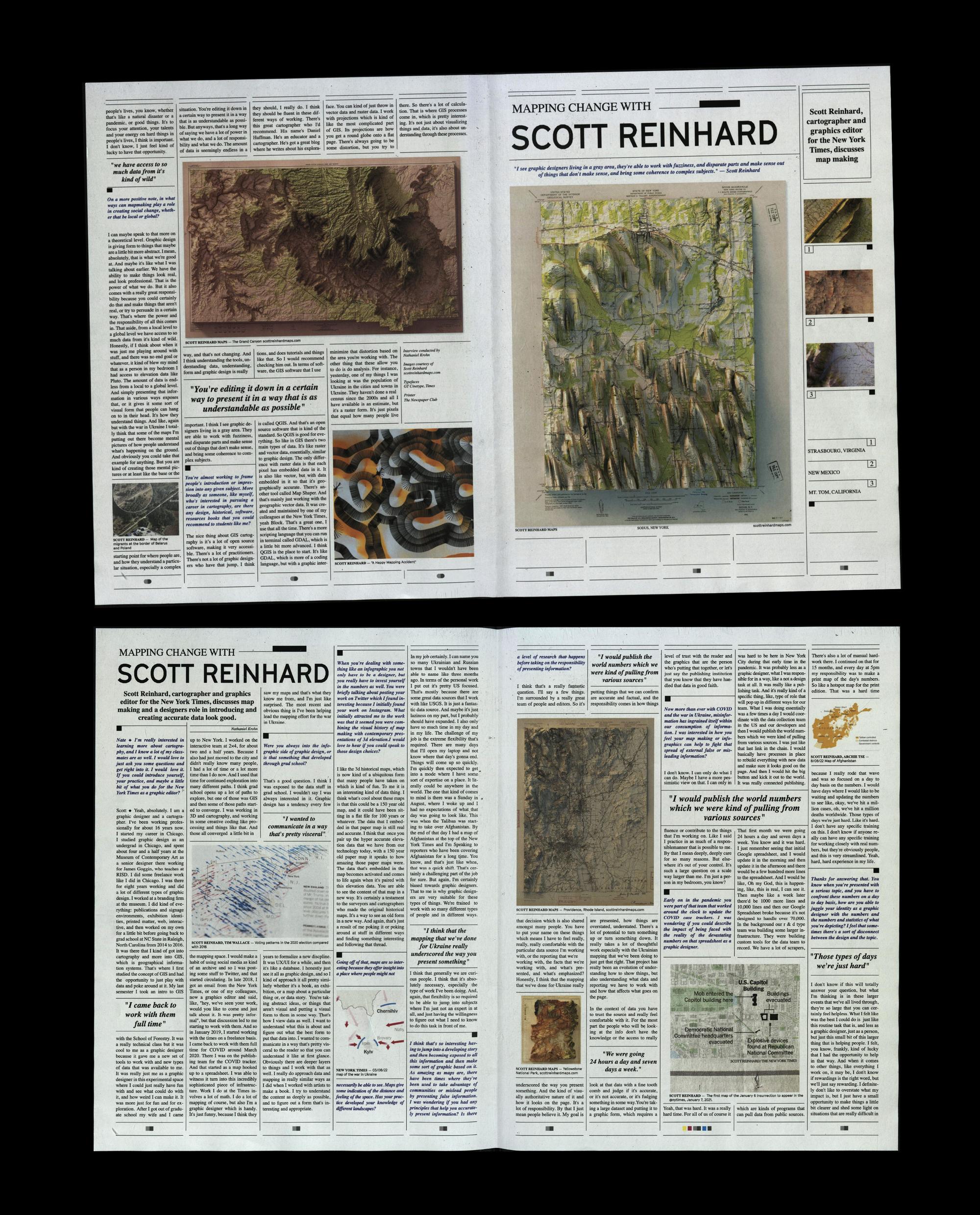 MAPPING CHANGE W/SCOTT REINHARD



2022
Designed publication & interview
Printed by The NewsPaper Club
Images courtesy of Scott Reinhard


A conversation and interview with Scott Reinhard, cartographer and graphics editor at the New York Times. Scott discussed his role in the creation of the first Covid 19 case tracker. Our conversation touched further on themes ranging from map making to the responsibilities designers have when creating graphics.


SORT LATER
2023
Sort Later RISD Senior Show
Design is a form of sorting. The designer takes disparate elements and strings them together; remixed and recombined. Charged with the unending task of forging new connections, the designer tediously aligns type to page, gathers content for books, and compiles assets for websites. Sorting becomes a way to retain control. It implies a tangible end to the process. So often, each design decision leads to some envisioned 'end.' Sort Later is about letting go of ideas of finality and instead celebrating the work in progress, the liminal, and the unanswered. The exhibition is a celebration of excess, community, and growth.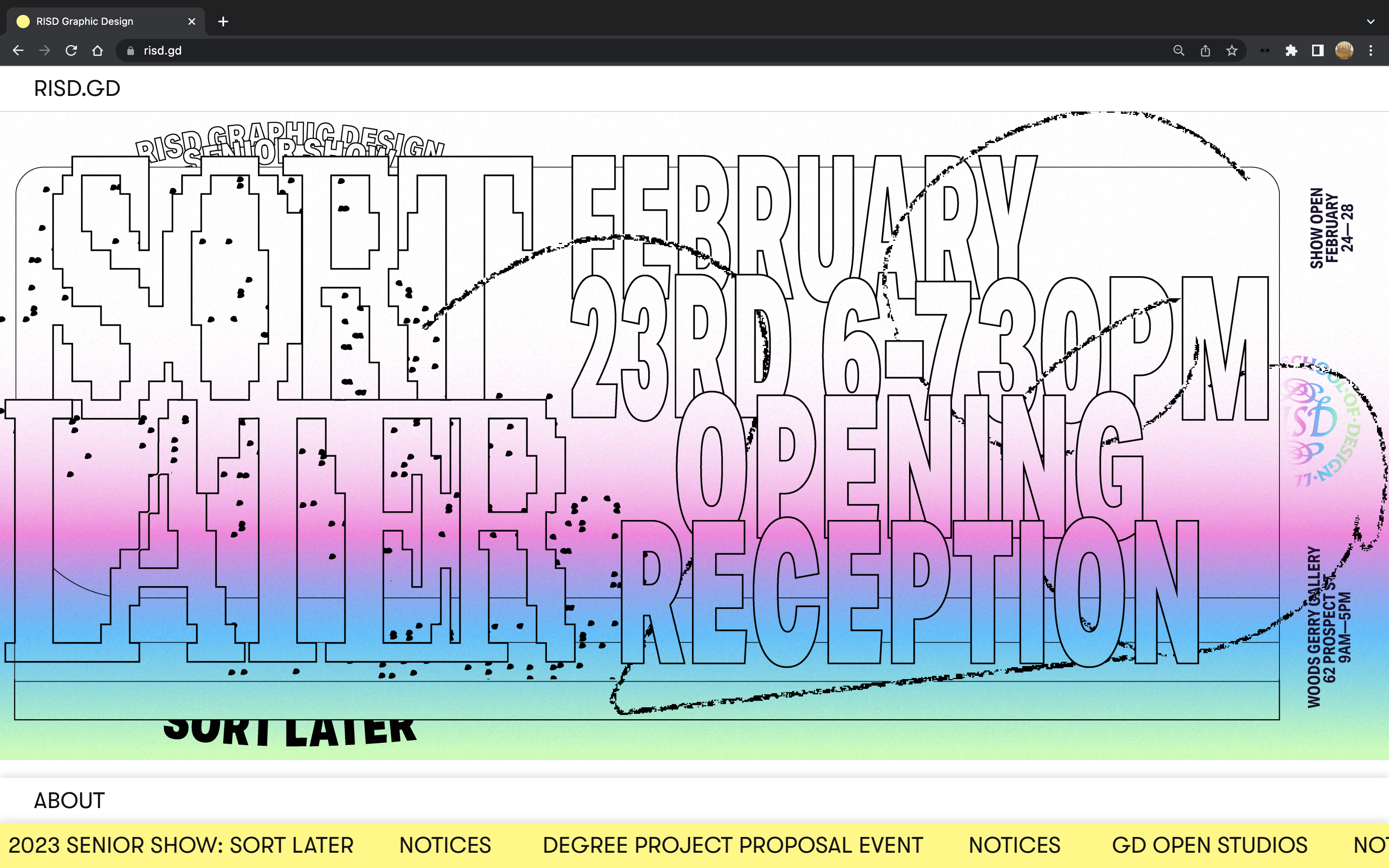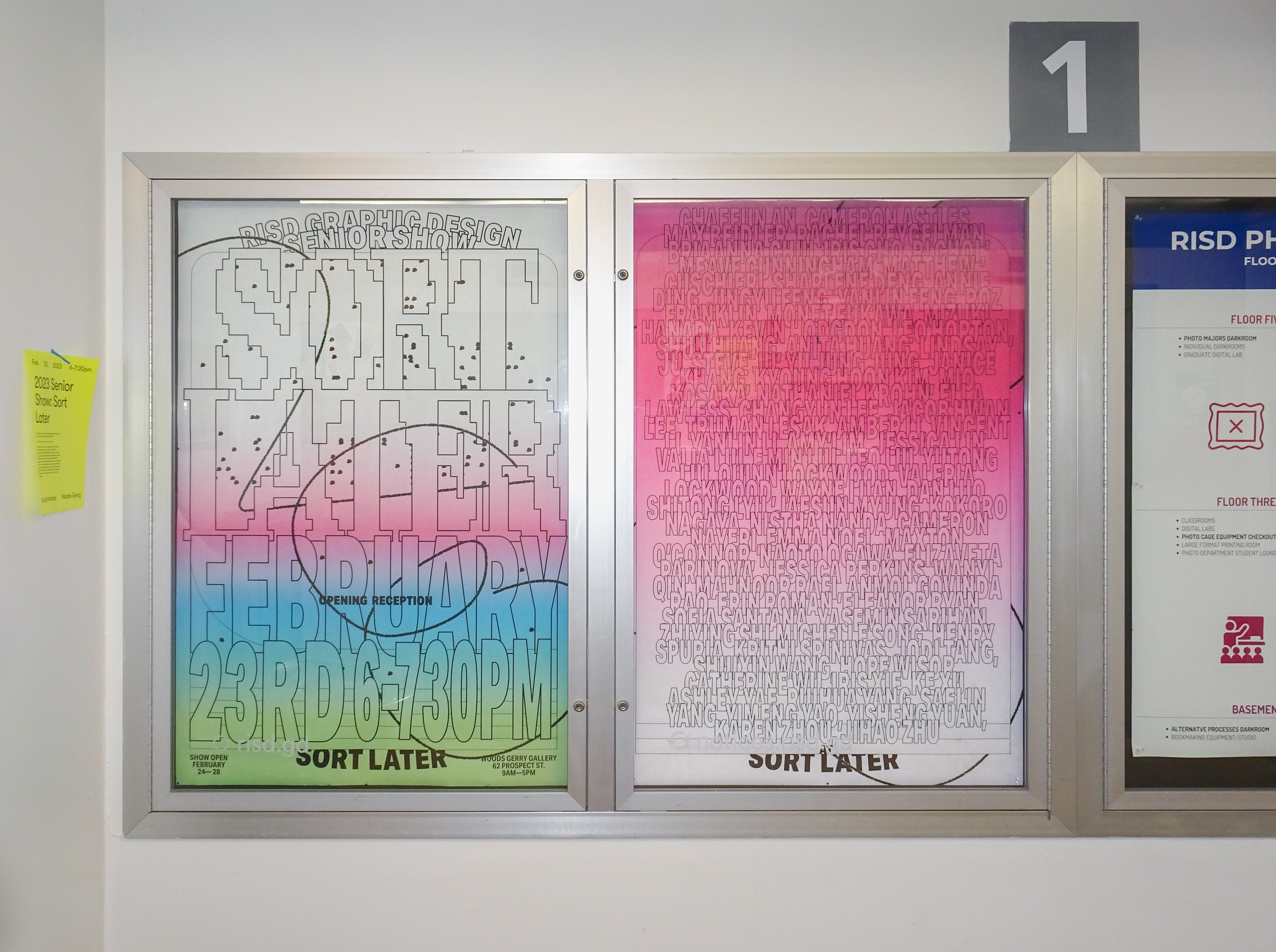 REVERSE EKPHRASIS


2023
Details: Publication/book design & semi autiobiographical fiction writing
RISD degree project
Sheet fed Printing by Nate Krohn at the RISD typeshop

In works of art and literature, there can be a tendency to rely on a traditional narrative arc structure revolving around a central climax or conflict. While we can't ignore the chronological construction of a story arc, there are issues that can be better understood using alternative narrative structure. Reverse Ephrasis, looks to visualize alternative narrative structures found in mediums of expression ranging from semi-autobiographical fiction writing to cinema. Ekphrasis represents literaries ability to respond to and translate works of art into other mediums. Equally valuable is art's ability to draw reference from the multitude of alternative narrative strategies found in film and writing.

Writing including forms such as fiction writing, journaling, satire, investigative reporting, autobiography, and poetry along with all the amazing narrative structures and forms found in film and cinema all can offer examples of alternative narrative structures that can inform the presentation of information in design, a with creating compelling visual structures and forms that can stand.

YODEL WITH YAHOO
2023
Yahoo Speculative Rebrand
Team: Siegel+Gale
CVS HEALTH: PROJECT HEALTH


Working as part of the design team at (add)ventures, I helped to create design materials including: posters for CVS Health Project Health, sketches for Heart House, Mural for Woonsocket Workplace Initiative.
Team: (add)ventures

PROCESS EXAMINATION W/BANKERWESSEL


2022
Details: Designed publication
Sheet fed by Nate Krohn at the RISD Type shop
Images courtesy of BankerWessel

A designed conversation and interview with award winning graphic design studio BankerWessel's Ida Wessel and Jonas Banker. Our conversation discussed the creation and inspiration behind BankerWessel's book , Process - Visual Journeys in Graphic Design. We further discussed authenticity, and how to form healthy collaborations between designers.

MODULAR PRINTS


2022 - 2023
Details: Steel polymer plate printmaking & sculpture
Printed at RISD's Benson Hall

A collection of sculptural printmaking pieces inspired by alternative narrative structures found in fiction writing. These sculptural prints look to use modular forms as a method in which to view a narrative from multiple perspectives.

MILLER KNOLL WRL
2022
Details: Branding
Images courtesy of Millerknoll WRL
A speculative pitch deck creating branding for Millerknoll's Workplace Research Library. Work inspired by research papers published by Millerknoll.
MAPPING CARR'S POND


2022
Details: Identity / mapping & publication
Documentation: Maxton O'Connor, Leo Horton, Fred Horton,
Location: Carr's Pond, East Greenwich Providence, RI.

As a collaborative team of four we explored, experienced, and learned from the Carr's Pond. We looked to create methods of better experiencing the space through creating an inventory of designed materials. We made a kit consisting of field guides, books, appropriate clothing, maps, and dayglow markers in order to experience Carr's pond without being invasive.

Team: Maxton O'Conner, Leo Horton, Fred Horton, Nate Krohn.

WEEKLY POSTER PROGRESS


2023Details:
Poster Design



An ongoing and casual design exploration into poster design. Work updated biweekly.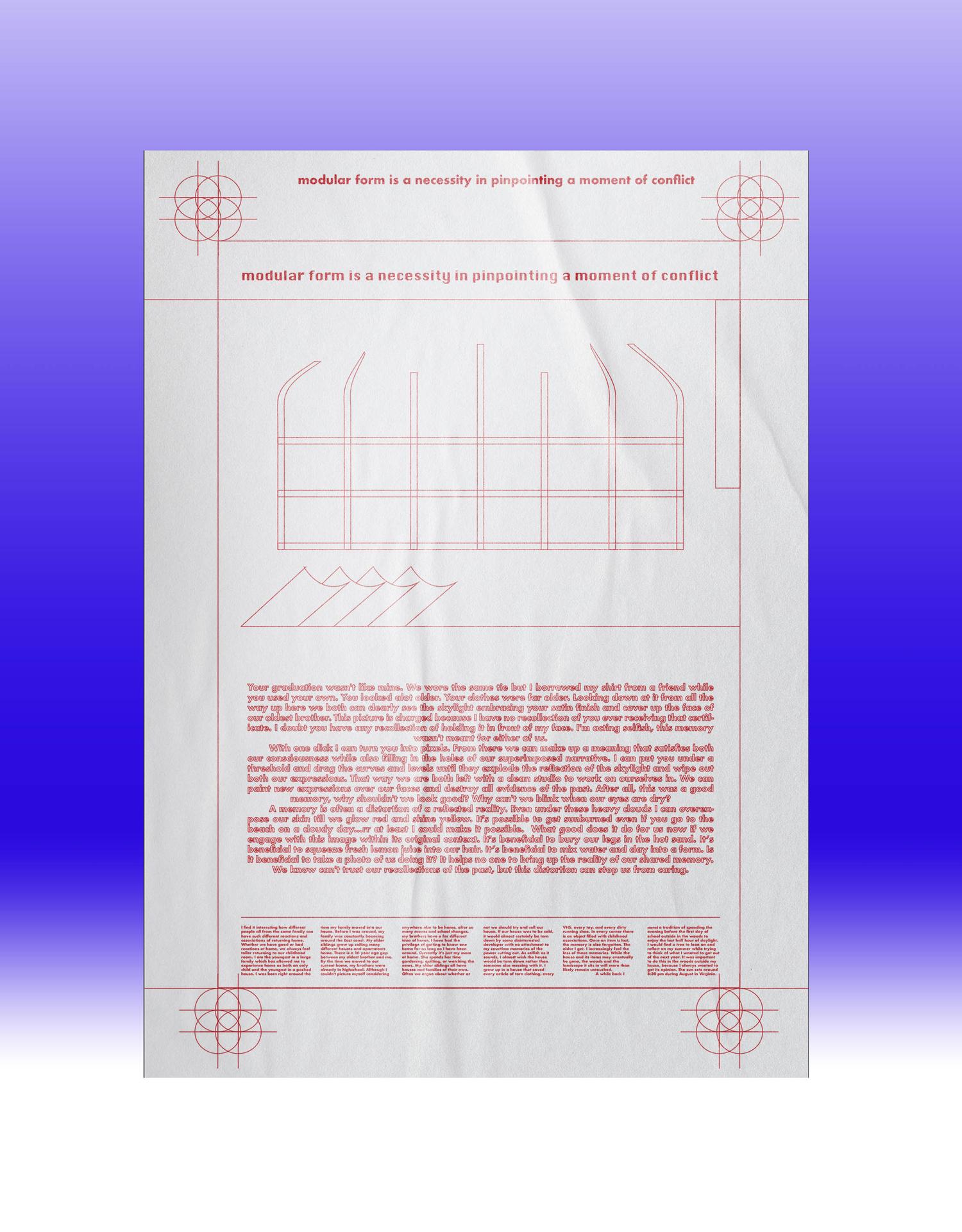 Rhode Island School of Design (RISD) Providence, RI Bachelor of Fine Arts, Honors, Class of 2023
Major: Graphic Design Minor: Printmaking
Brown University Providence, RI Literary Arts Coursework, Fall 2022

Currently at Siegel + Gale

Design: Print, Digital, Typography, Installation, Production, Signage and wayfinding, Identity design,
Artistic: Printmaking, Screen Printing, Intaglio, Lithography, Acrylic, Gouache, Pen and Ink, Illustration
Computer: Adobe InDesign, Adobe Illustrator, Photoshop, Adobe After Effects, Figma, PowerPoint, QGIS
For Inquiries reach out via email natelkrohn@gmail.com.
Last updated: June 2023